Rooms premises facilities
The premises of the 674-edes castle hotel Palatinate offer an unforgettable atmosphere for seminars, conferences and festive events like weddings, baptisms, birthdays and jubilees. Those who want to celebrate together with their sweethearts, their family or their friends and experience a great evening, will especially like it here.
The following premises are available:
Gourmet restaurant
5 conference rooms for 10 to 100

people

banquet rooms

1 sun terrace

1 concert stage
Restaurant
The guests will be culinarily spoiled in the gourmet restaurant. In the cozy rooms with complex mural paintings and the historical open fireplace, you can relax and enjoy all the pleasures. From Tuesday to Saturday, exclusive culinary specialties of the Mediterranean area from the gourmet menu will be served. On Sunday and Monday, the chef offers light and delicious dishes of the mediterranean cuisine. You'll find selected wines and sparkling wines from Edesheim and the Southern Weinstrasse (south wine road) on the beverage menu.
If you would like to reserve a table in the restaurant, please forward your request via this online reservation form so your reservation can be registered in due time.
Banquet rooms festivity arch cellar
The stylish event rooms and the historical arch cellar of the 674-edes castle hotel Palatinate with their unique atmosphere offer the ideal setting for festivities and celebrations of all kinds.
The Churpfaltzsaal (Churpfaltz

h

all) (up to maximal 48 people) is a very stylish, bright hall with parquet floor and mural paintings on the first floor of the castle with view towards the lake stage and to the upper inner

castle courtyard

.
The

Ballsaal (d

ancing

h

all

)

(up to maximal 32 people) is a magnificent

hall with mural paintings and stucco with a small winter garden on the first floor of the castle with view towards the lake stage and to the lower inner

castle courty

ard.
The

Schlossstube (c

astle parlo

r)

(up to maximal 30 people) with bay and a small gallery

,

is a rustically furnished, cozy parlor on the ground floor of the castle with view towards the lower inner

castle courty

ard.
The Wittelsbachkeller (Wittelsbach cellar) (

normally for

up to maximal 96 people, 12 tables with 8 people each) is a historical

arch cellar

in the castle with integrated stage area and dance floor. There's a direct access to the outside to the lower castle courtyard and event stage.
All rooms can be set up individually upon request. There are table cloths of many different colors as well as candles with the matching color available. The hotel staff will be happy to organize the design of menu cards, the flower arrangements and cakes. If requested, they will also take care of the booking of a photographer. Different musicians and bands can be arranged upon request.
Upon arrival of the guests, an appetizer greeting would be a nice start. Different kinds of canapées and amuses gueules are recommended for this. The menu suggestions and buffet suggestions serve as motivation and of course, any alterations can be made if requested. You'll also be advised on the selection of the corresponding wines upon request. In the well-assorted wine cellar, wines of many different flavors can be found. Of course, a small snack at late hour can be prepared as well. In addition to an assortment of different kinds of cheese with ciabatta bread or salty snacks, a midnight soup will be served, too.
Capacities and seating arrangements of the banquet rooms
Room name
Banquet
table / block
U-shaped
table
Single tables
Churpfaltz

h

all, 72 sqm, 12 m

eters

x 6 m

eters

48
30
30/46
-

Ballsaal (d

ancing

h

all

)

, 40 sqm,
6 m

eters

x 6.60 m

eters

32
22
16/24
30

Schloss-Stube (c

astle parlor

)

, 24 sqm,
6 m

eters

x 4 m

eters

-
15
20/-
30
Wittelsbachkeller

(Wittelbach cellar)

, 165 sqm,
24.70

meters

x 6.70

meters

96
44
44/62
-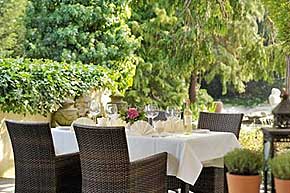 .
674-edes Castle hotel Palatinate, South Wine Road, Rhineland-Palatinate Germany Hotel rooms, suites, room rates, Palatinate castle hotels Germany New Year's Eve trips Germany knight's meal party vacation

Meeting conferences seminar castle hotel Palatinate

Wedding destination location Germany marriage celebration

Festival plays performances, open air castle theater, live music

Hiking vacation, mountain biking tour cycling

b

ike trail trails bicycle path

p

aths

Tennis squash badminton skittle skittling dart mini

golf

Edesheim Edenkoben Wine Road Weinstrasse Germany

Road map no. 2 Hesse Rhineland-Palatinate arrival South-West Germany

Road map no. 4 Rhine River Palatinate Ludwigshafen Mannheim Kaiserslautern Worms Speyer Landau

Castle history Palatinate middle ages chronicle

Online booking