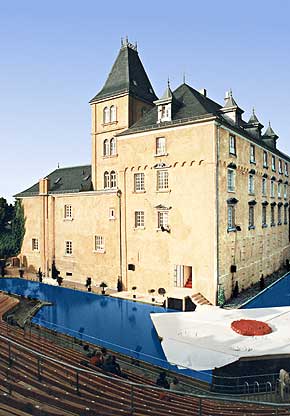 A historical atmophere during the festive plays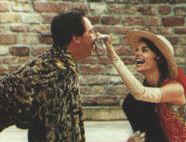 will be mediated by the rebuilt castle ditch with about 500 sqm water surface and a water depth of up to 2,20 meters.
The ditch is surrounded by a footpath and a pedestrian bridge on the east side, which leads to the path of the newly constructed open air theater for about 800 visitors on the south west corner of the castle.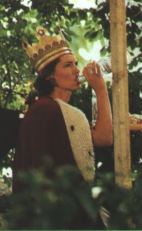 A concert stage came into existence in the lower castle courtyard, where the castle festivals take place every year during summer and fall. These festive plays have become popular in the meantime beyond the regions.
A castle festivity with live music also takes place here once a year.
The rich cultural program in the summer and fall with debut performances and premieres of world famous theater acts conjures international theater on the Edesheim lake stage: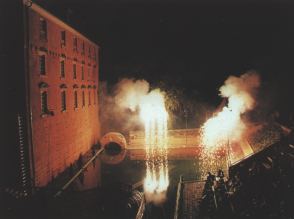 Shakespeare, Sommernachtstraum ("A mid summer nights dream") (1996)
Shakespeare, Der Widerspenstigen Zähmung ("Taming of the shrew") (1997)
Shakespeare, Romeo und Julia ("Romeo and Juliet") (1998)
Shakespeare, Was Ihr wollt ("As you like it") (1999)
Liselotte von der Pfalz ("Liselotte from the Palatinate") (1996 und 1997)
Die goldenen 20er ("The golden Twenties") (1997)
Goldoni, Diener zweier Herzen ("Goldoni, butler of two hearts") (1998)
Dornröschen ("Sleeping Beauty") (1996)
Der gestiefelte Kater ("Puss in Boots") (1997)
Der Zauberer von Oos ("The Wizard of Oz") (1998)
Molière, Der Geizige ("Molière, the stingy") (1999)
König Drosselbart ("King Drosselbart" - a fairy tale by the Grimm brothers) (1999)