Menu Menus
(without limitation of participants)
The 741-lehe castle hotel Kocher-Neckar Rivers offers a menu card with weekly changing menus in the price range from about 26 EUR to 75 EUR (3 to 7 courses). Menus can also be individually composed from the offer on the menu card.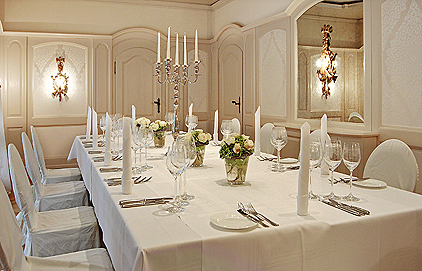 Menu suggestions
Menu nouveau fou
Tempura of salted salmon, scampi, raukemayo, chili
***
Yellow mustard with pulpo
***
Mushrooms with braised vegetables from the oven with 6 herbs and schupfis
***
Gurnard with green peas, sweet-water shrimp
***
Stuffed poulard with pork-filet, tenderly braised 45 minutes in balsamico brew, potatoes, ruble
***
Milk cheese shish kebab with orange-olive mostarda
***
Cox orange with egg liqueur and fine greens
More menu suggestions coming soon.
Road map no. 1 airport airports Germany
Road map no. 2 Stuttgart Karlsruhe Freiberg Mannheim Bodensee Lake Constance
Road map no. 3 Stuttgart Mannheim Karlsruhe distances arrival
Road map no. 4 Heidelberg Heilbronn
Road map no. 5 Heilbronn Bad Friedrichshall arrival parking
.